Orange returns to the field on Friday
Nederlandse tekst
On Thursday, the Netherlands National Softball Team had the day off on Day 13 of the Florida-trip and attended the Major League Spring Training-game of the Philadelphia Phillies against a split-squad team of the New York Yankees. The Phillies won the game, 6-3.
The Dutch Team returns to the field on Friday-morning and then meets the University of Pennsylvania, starting at 10 AM local time (3 PM Dutch time). This game is included in the USF Michele Smith Spring Break Tournament on the Eddie C. Moore Complex, but is not counting in the tournament-totals for the Dutch opponents. Friday will be the first of six busy days for the Orange, as the team then has nine games scheduled.
At Bright House Field, the Dutch Team saw several big-name players face each other, including Ichiro Suzuki, Jacoby Ellsbury, Mark Teixeira (all Yankees), Chase Utley and Ryan Howard (both Phillies). The Phillies took a 3-0 lead against the Yankees in the third inning off of starter Ivan Nova. Singles by Marlon Byrd and Ryan Howard plus a double play-grounder by Carlos Ruiz gave the Phils the early lead.
In the top of the seventh inning, the Yankees got two runs back when newcomer Jacoby Ellsbury homered and Francisco Cervelli added an RBI-single. But in the bottom of the eighth, the Phillies rallied for three more runs on doubles by Reid Brignac and Tommy Joseph (2-run).
The other split-squad team of the Yankees was more successful this afternoon. Playing at home in Tampa, the Yankees shutout the Baltimore Orioles, 6-0. Participating in that game for the Yankees were Derek Jeter, Carlos Beltran, Alfonso Soriano and Brian McCann, while Dutch National Team-infielder Jonathan Schoop played at second base for the Orioles.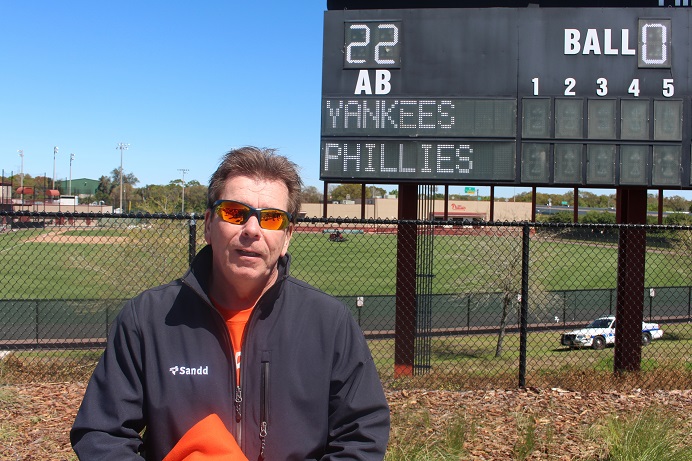 Head Coach (and Yankee-fan) Craig Montvidas in front of the scoreboard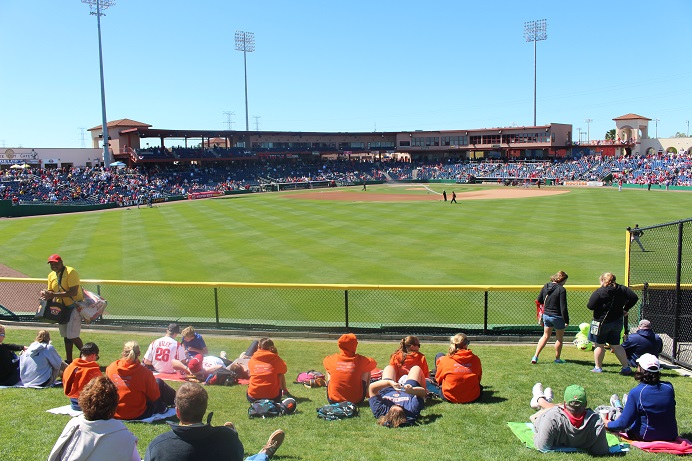 The players watch the game from the outfield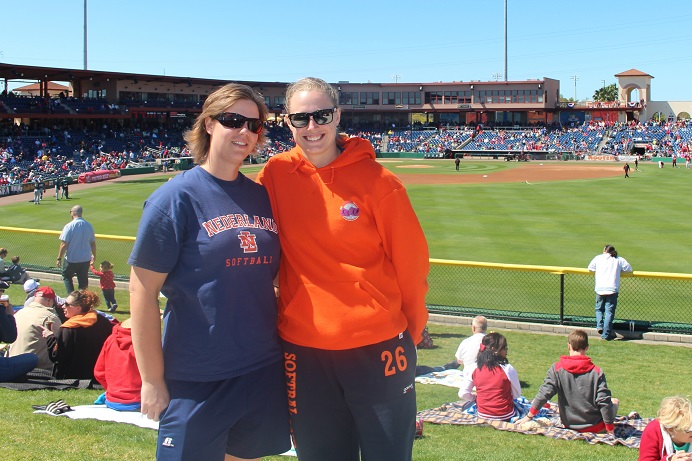 Catchers Karin Tuk and Nathalie Timmermans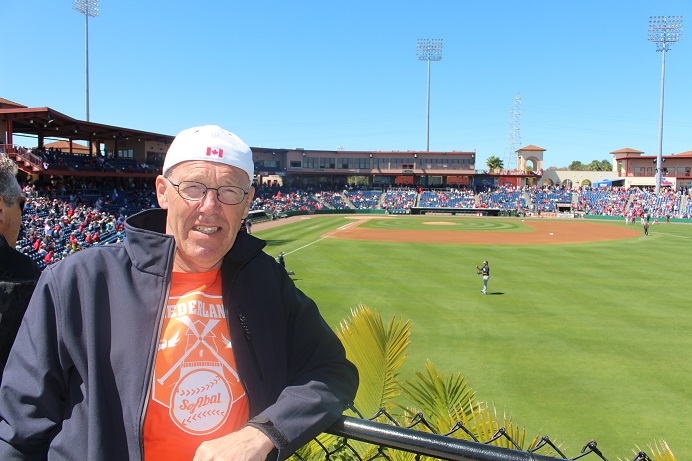 And here, we have Coach Berend Mannessen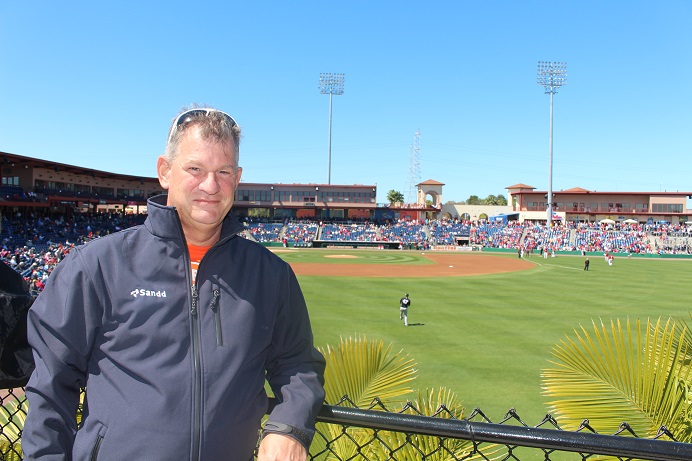 And, yes, the tradition continues
Here, we have Team Manager Paul Boonstra with the stadium in the background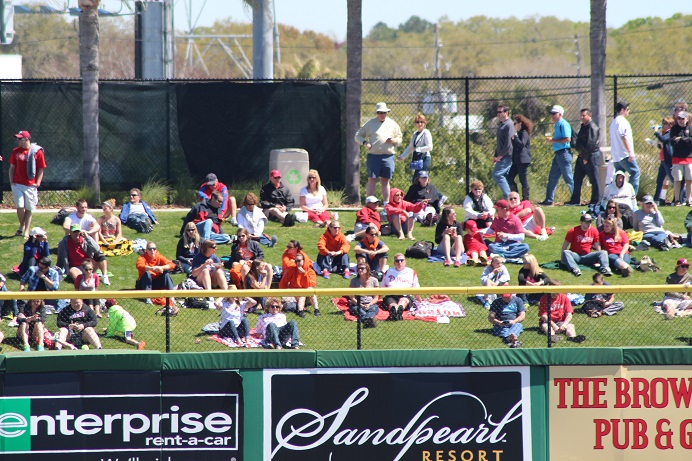 The players look on from the outfield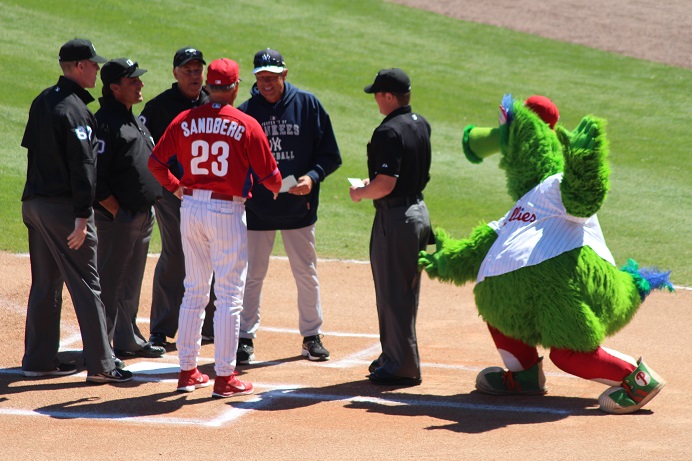 Phillies-Manager Ryne Sandberg and acting Yankee-Manager Mick Kelleher exchange line-ups
The umpires are Seth Buckminster (3B), Phil Cuzzi (2B), Tom Hallion (1B) and Toby Basner (HP)
At right is the Phillie Phanatic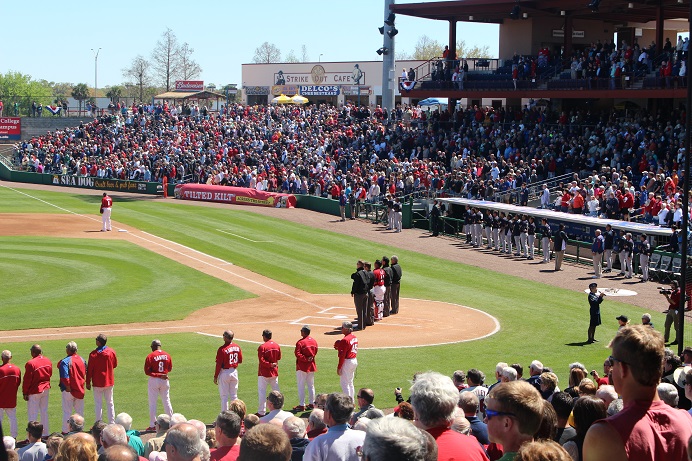 The teams line up for the playing of the National Anthem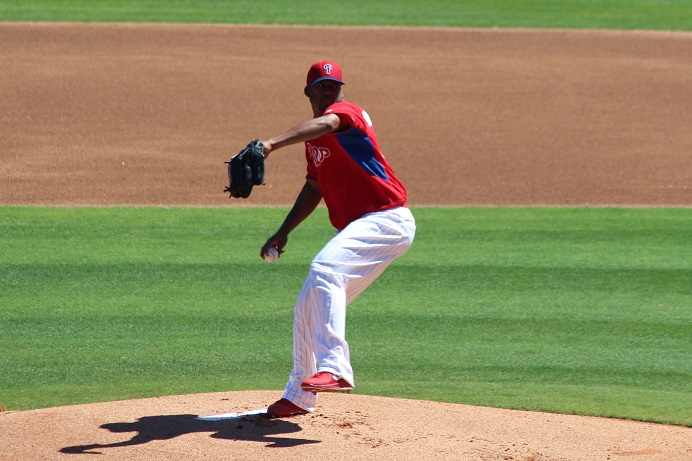 Phillie-starter Roberto Hernandez, who retired the first 15 batters he faced in 5 innings
The Perfect Game was broken when Scott Sizemore led off the 6th inning with a single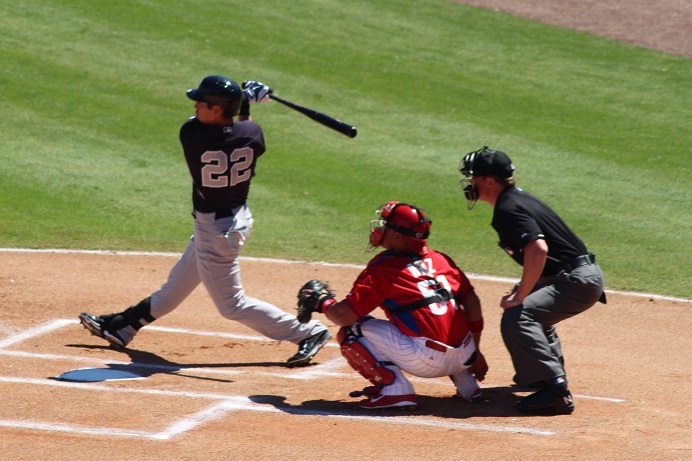 Centerfielder Jacoby Ellsbury, who homered in the 7th inning; Carlos Ruiz is the catcher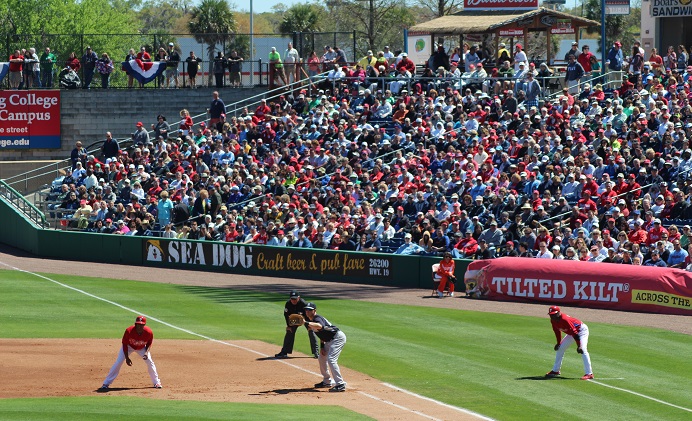 The game was attended by 9,000 spectators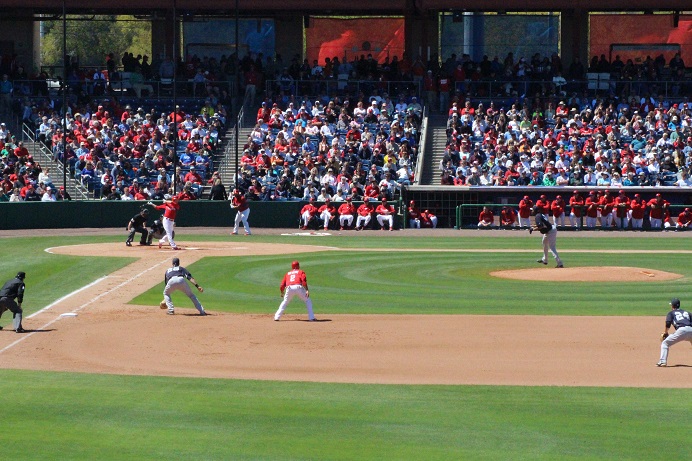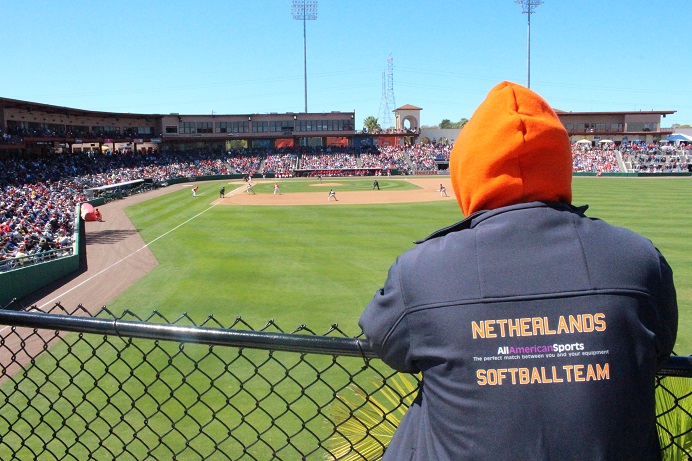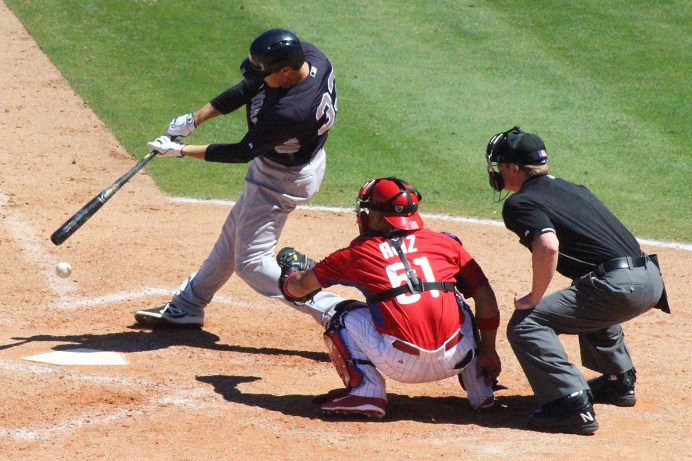 Kelly Johnson connects for the Yankees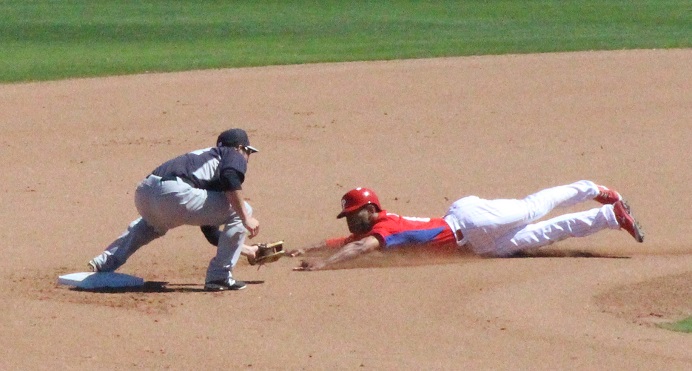 Tyson Gillies is caught stealing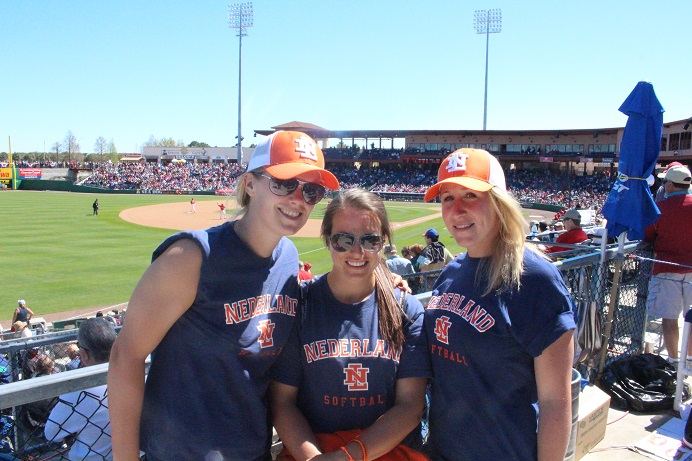 Dinet Oosting, Lindsey Meadows and Merel Oosterveld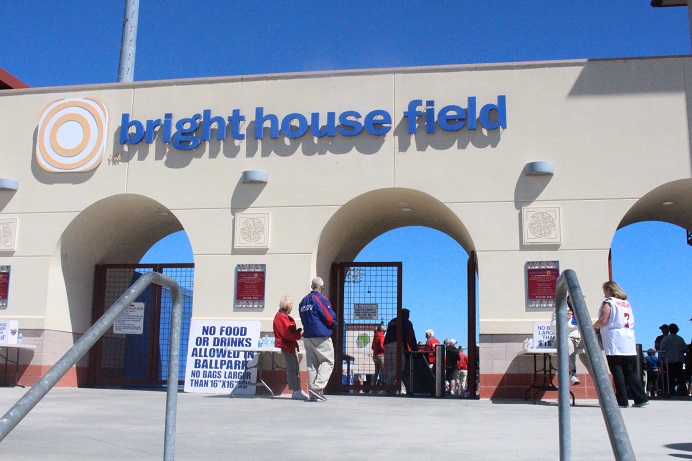 West Entrance Plaza of Bright House Field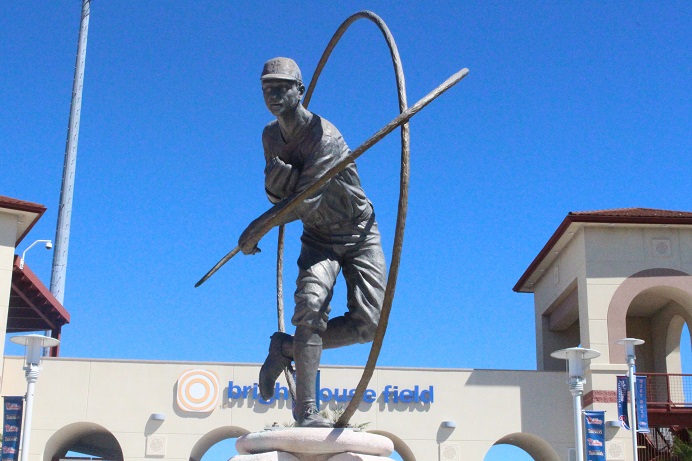 The statue The Ace, made by sculptor Kevin Brady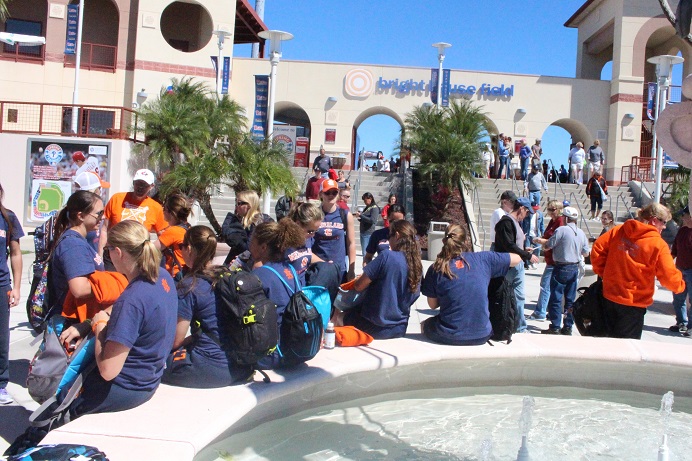 The team waits for transport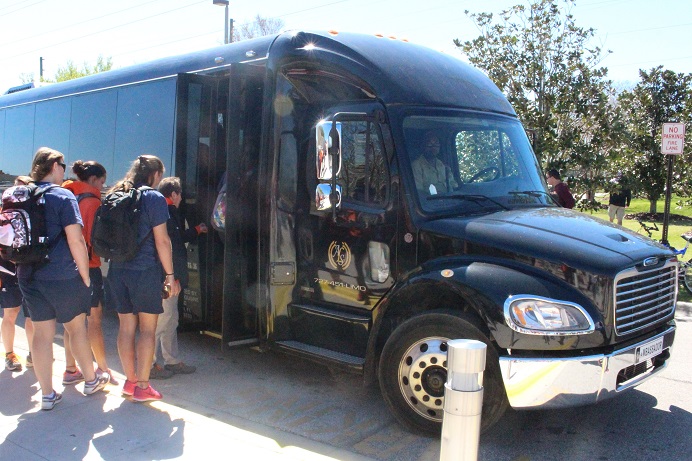 The team is on its way to dinner at Salt Rock Tavern